Did you make it to Union Square this past Saturday? We were there in full force for SomerFun - courtesy of Somerville Local First and Somerville Arts Council. It was definitely a little rough with the November-like weather - cold, rainy, and well - yuck! But we Somerville auto repair guys know how to have a good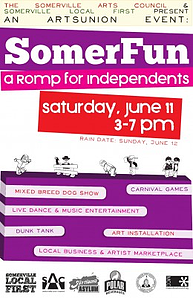 time!
We huddled under a big tent next to our friends from Groundwork Somerville - oh, so kind of them! The turnout may have been low, but it was still filled with great, local people.
We showed up with gifts for everyone! We had some sleek gift cards made that entitle the recipient to $10 off of our green oil change. And yes, they were quite a hit!
It was great to see the dedication of all the local businesses and friends of Somerville. That's what makes our community great!
And though, at the end of the day we were a little tired - and wet - all was well when we raised our glasses at the Independent.
See you next year, at what will hopefully be a warm and sunny SomerFun!