At Mike's we are used to hearing warranty horror stories from our new customers. They are always relieved when they find out we offer an unmatched 2 year/24,000 mile warranty.
Unfortunately, they usually have taken quite a beating before they get here.
One of our customers named Susan shared her warranty nightmare with us. Susan had been to many places for auto repair - from the big pricey dealerships to other independent shops.
Susan's last encounter with one of these shops was her last! She had paid for new front and rear brakes in her car. One day Susan began to hear noise coming from front-end every time she applied her brakes. Like most people, she went back to the service provider, explained she had brake work performed there, and asked that her car be inspected.
It wasn't long before the service provider came back with a diagnosis - the brake pads had worn out! Susan was relieved at first, as she assumed they would be warrantied.
Then came the bad news - Susan had the brake work performed 13 months ago. And there it was...the infamous 1year/12,000 mile warranty had struck again!
Susan was infuriated!
Needless to say, Susan didn't pay that shop another dime! That's when she found Mike's - and the first thing she asked was about our warranty. She was more than happy when she found that we warranty our work for twice as long as the other guys! Yeah, we definitely made a new friend that day!
Some of our customers have had just as bad luck when they have purchased aftermarket warranties - those are the warranties sold to you before something goes wrong and are supposed to cover you when something does.
Recently, Mike Sr. saw a customer's warranty nightmare first-hand. One of our new clients paid nearly $3,000 to a national company for her aftermarket warranty, and was told that it would cover a host of basic services.
The customer's car was diagnosed with having a faulty alternator.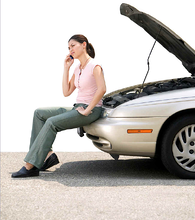 When Mike Sr. delivered the news to her warranty company he was shocked at their response - they wanted to send him a used alternator to put into her car!
$3,000 and she gets a used alternator? Incredible!
Mike wouldn't have any part in this. He promptly informed the customer of the situation. She decided to pay for the new alternator herself.
At least now she has a quality product and the Mike's warranty!
Have you encountered your own warranty nightmares?
Tell us - we'd love to know!