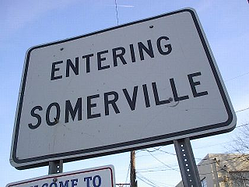 As a Somerville auto shop dedicated to community blogging, we have to give it up to great folks in the community who are doing their part to spread the word about what's going on around town. And, with Halloween in the books and the 2010 holiday season here, we need as many good sources as possible to keep up on what's going to be a busy event season.
The Somerville News is a great resource to keep up on community happenings - they cover arts & events, and are one of the most comprehensive sources online for Somerville high school sports news. There's an active community of commenters, too, which can make for good reading.
A recent story on the Aledermen's efforts to ban a particularly potent and popular alcoholic beverage, 4Loko, drew a lot of empassioned ire from the reader base. We love a good comment thread, and that the citizens of Somerville are so empassioned about how the Aldermen are spending their time. As an auto shop, your non-intoxicated driving is our concern, but we take no particular positon on 4Loko.
We look forward to following this fabulous site, and sharing more insights with our community members - and most importantly, helping you get the best auto service from a locally owned, Boston sustainable auto repair shop.