Our friends in Medford have seen something pretty cool take place lately - a resurgence of the arts community.
A recent collaboration of two unlikely partners turned out to be a hit. The Medford Arts Center, Inc. (MACI) teamed up with the Meadow Glen Mall to host a photography contest.
What made this contest so unique? All submissions were to be photographs of Medford. Now that's some local spirit!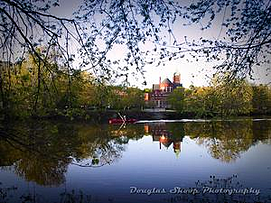 The winner was Douglas Shoop of Medford. His photo "Sunset Solitude" truly captures the beauty of this community - a lone kayaker on the majestic Mystic river, complete with the iconic Saint Joseph's Church in the background.
What's even more interesting is that photography is a hobby for Douglas! He is an architect by day with a practice in Medford Square. Now that's impressive!
Doug even has his own blog where he showcases some of his amazing work - Douglas Shoop Photography.
The other great part of this story is the great arts community in Medford. The MACI has some amazing programs that enrich the city (and the rest of us).
We live in an age in which the arts are under-appreciated. It seems like every other day we hear that art is being cut out of school curricula.
What type of community would we have without the arts? Not a very good one! It's nice to see our friends in Medford realize that.
It's important for all of us to stand up and fight for the arts community, and to let it be known that they are just as important as any other group!
It's the arts community that keeps us from being number-crunching (or wrench-turning) fools! ...Well-rounded to say the least.
So, check out Doug's blog and support the MACI.
And remember - at Mike's we're not just all about Medford Auto Repair - we're all about Medford - including the arts!