Throughout our history at Mike's, we've earned many accolades. With every new award comes a sense of pride and a reminder that we are in the business of helping people. Earning our most recent award has elevated us to a category of distinction that no other Boston auto repair shop can claim.
Mike's Automotive Services has been awarded the 2014 Angie's List Super Service Award! Why is that such a big deal? Well, allow me to explain....
We've written about winning the Super Service Award before. But winning the 2014 award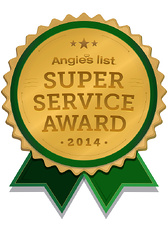 marks a special time in our history. You see, we were the first and only automotive shop in the entire state of Massachusetts to win the Super Service Award - that was back in 2005. That's right - no dealerships, no chain shops and no other independents - just Mike's! And we've won it every year since!
Angie's List is not some run-of-the-mill review site - it's a site that people pay to belong to, knowing that they can trust their fellow subscribers to provide honest and useful reviews. Earning their respect and admiration for a decade is something to proud of.
We're honored to accept the 2014 Angie's List Super Service Award. It's not only a testament to our hard work, but reminds us that we're fulfilling our core mission: helping people.
Here's to a decade of excellence! We're looking forward to another!