It's that time of year again - when we get to announce something that we worked tirelessly for all year long. Mike's has been awarded the 2013 Angie's List Super Service Award!
This marks the ninth year in a row that Mike's has received the most coveted Boston auto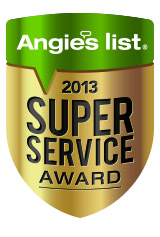 repair award. Now, that's no easy feat! Angie's List customers are the most discerning of all, as they expect nothing but the very best service provided to their vehicles - and by friendly, helpful people.
Announcing that we have won the Super Service Award is one of our favorite posts every year! The award is something that every shop dreams of attaining, but most seldom do. And as some of you already know, Mike's has been receiving this award for a very long time. In fact, back in 2005, we were the first auto shop in the entire state of Massachusetts to receive the award - and we've won it every year since!
You don't have to take our word for it - take Angie's! Along with throngs of loyal customers, she has attested to the quality service you'll receive at Mike's.
So, when the conversation moves to car repair, rest assured that both Mike and Angie have got you covered! Afer all - they're both super!