AAA Approved Somerville Auto Repair
What does it mean to you that Mike's Automotive is a AAA Approved Auto Repair facility?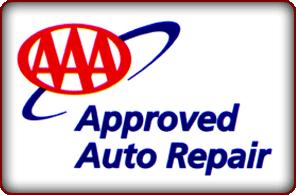 The AAA (American Automobile Association) has millions of members nationwide. When those members ask AAA where they should go for auto repair, they refer them to a "AAA Approved Auto Repair" facility near the member.
Not all auto repair shops are AAA Approved. In fact, fewer than 5% of all shops ever become a "AAA Approved Auto Repair" shop. To be approved the auto repair company must pass the AAA's very stringent requirements and inspections.
Also, as a AAA member, you can show your card and save 5% off parts and labor! Just ask!
To Become a AAA Approved Auto Repair Facility:
Our shop must pass a rigorous and thorough investigation that takes a long time. We must pass all subsequent periodic inspections as well.
We must prove that our service technicians are qualified. (Read about our status as an ASE Blue Seal of Excellence Recognized Business - we are one of 10 in the entire state)
We must have quality equipment to perform the services.
Our customers must give us very high satisfaction ratings. They survey 100's of actual customers taken from sequential repair orders. They ask the following types of questions:

Was the estimate accurate?
Was the job done on time?
Did they fix the vehicle right the first time?
What kind of warranty did they provide? (Mike's Warranty Information)
Was the shop clean and presentable? (See the shop photos)
Did they offer a ride to work or wherever you needed to go?
Was there a comfortable, pleasant and clean waiting area?
The bottom line about being a AAA Approved Repair Facility...
If AAA trusts our company enough to send their very important members here, then you can too. They've done the hard investigative work to make sure we are a reputable and worthy shop. Then they continue to make sure we are with their periodic inspections and customer surveys.