There's something exciting going on here in Union Square. At our Somerville auto repair shop we have a new neighbor. And we're psyched that it's another food spot!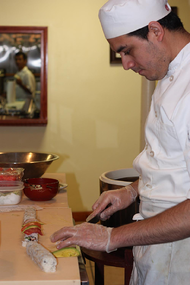 Owner, Jose Garcia (of Blue Fin fame) has setup shop right next to us, with his new restaurant Ebi Sushi. That's right - come in for an oil change and grab a volcano roll next door for lunch. That's just too easy!
Jose told our friends at the Somerville Arts Council that he had been looking for a spot for a while. He realized that he had many customers from Union Square - but there was no sushi here. Well, the bells went off and the rest is history....
Ebi Sushi is more than just sushi. The restaurant offers a wide variety of Japanese cuisine, from tempura, to teriyaki, to noodle soups - there's something for everyone at Ebi.
And with a 4.5 star rating on Yelp, I have a feeling that Jose isn't going anywhere any time soon.
So, the next time you're in for service, or just making your way through Union, stop by Ebi Sushi and say, hello! Let's show Jose that he picked the right spot!