We are so happy to kick-off the new year by sharing some fantastic news. And yes - it's that good! Our shop has been named an Angie's List Super Service award winner for 2010!
We are honored to receive such a prestigous award (picture Mike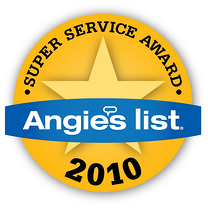 dancing - no, wait - don't!). In fact, this marks six years in a row that we've been named a Super Service award winner. We began in 2005 as the only car repair shop in the entire state of Massachusetts to receive the award - and we haven't stopped since!
It feels great to know that providing honest and transparent Boston auto repair continues to pay-off. Althought, we wouldn't have it any other way!
For those of you who aren't familiar with Angie's List, it is a subscripton-based online community, which specializes in providing quality reviews of local service providers.
We place a lot of stock in how we are reviewd on Angie's List. The community is comprised of serious people who provide honest reviews which are relied upon heavily by their fellow members.
At Mike's, we have pretty good reviews on most sites. But other sites can be tricky in that sometimes people who aren't serious reviewers decide to go on a rant for no good reason. With Angie's List, we always know we are getting a fair shake, no matter how the review turns out.
We hope you sign-up for Angie's List. You'll unlock some of the best-kept secrets in Boston - and you can give us a shout-out too!

Don't forget to check us out on Facebook!