The Green Line Extension is creating some news in the communities it will serve - Somerville, Medford and Cambridge.
There is now word that the green and red lines could connect someday in Porter Square!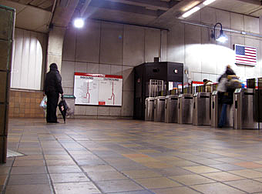 According to Katherine Fichter, project manager for the Green Line Extension, this is something that could happen in the far, far future.
Yes, I know - that statement doesn't sound extremely promising. But at least it's on the table!
Connecting the green and red lines is a fantastic idea!
It's time our elected officials acknowledge that the Greater Boston area is truly "greater" than just Boston!
Why should we have to go in and out of Boston to go from Union Square to Porter Square? That's insane! Just like the fact that our friends in East Cambridge have to go on a trek by bus just to get to Harvard Square. Insane!
Does Beacon Hill not realize that we have a little something to offer here in Somerville and Cambridge? Did they miss the memo that said the patrons of the Green Line Extension shouldn't have to ride into Park Street station just to grab the red line?
Just think - come get your Somerville auto repair here in Union and whiz down to Porter on the green line!
I understand that the current Green Line Extension must happen first. But after that - the connection to Porter Square is a must! Let's make sure it happens!
Things are also heating up in Medford. The State is balking at completing the Green Line Extension in one phase.
Yes, you guessed it - crying broke again! Supposedly, due to the "economic conditions" there isn't enough money to complete the Mystic Valley/Route 16 terminating stop by the December, 31, 2014 deadline - when the rest of the extension is legally mandated to be completed.
So they are now talking two phases - one for everything up to College Avenue in Medford - and another for the Mystic Valley stop.
But wait - not enough money? What happened to all that fabulous stimulus money? Nearly 1 trillion dollars of stimulus and no money for Mystic Valley?
We have bankrupted our country and can't event get a T stop?
It's time for Governor Patrick to utilize his Obama ties to make this happen! The people of Medford should not be considered second-rate!
If Washington has spent all of its newly-printed money then it's time for Beacon Hill to step-up and get the job done!