Well, it's that time of year again - time for New Year's resolutions! At Mike's, we're urging our customers to include their vehicles when setting goals for 2014.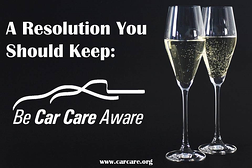 Our friends at the non-profit Car Care Council, explain why resolving to spend a little time on your car now, can lead to a great year ahead.
"Regular auto care shouldn't be one of those New Year's resolutions that goes by the wayside," said Rich White, executive director, Car Care Council. "Preventative vehicle maintenance pays off all year, every year."
To be car care aware, the council recommends incorporating the following service interval schedule items as part of your New Year's resolution:
Perform monthly checks of tire pressure and the condition of tires, lights and windshield washer fluid. The vehicle should also be cleaned monthly.

Every three months or per the owner's manual, check the engine oil and filter, check the levels of other fluids including automatic transmission, power steering and brake, and check the battery and cables, belts and hoses. The exhaust and fuel filter should also be checked at this interval.

Every six months or 6,000 miles, the chassis lubrication should be checked and windshield wipers should be replaced.

Every 12 months or 12,000 miles, the brakes, spark plugs, coolant and steering and suspension should be checked.
As a local Somerville auto repair shop, we're happy to pass on these tips. We hope you'll keep up this resolution a lot longer than the one you made for going to the gym!